Test4Climbing
Climbing Performance Self-Assessment
A system correlating physical abilities and mental game to climbing grade
Inspiration for the Project
Have you ever asked yourself:
Why am I stuck climbing the same grade?
What are my weaknesses and what I should train to improve?
Do I really need to be able to front lever/one-arm pull-up/muscle-up to send harder routes?
What is the most essential thing to train besides finger strength?
I have a lot! So I launched Test4Climbing to provide research-based answers to these questions and community for climbers looking to improve. Finally, climbers can compare a variety of specific abilities to others, individually or broadly, within an ever-expanding worldwide database. Completing your first Supreme Master Assessment will allow you to start gauging your strengths and weaknesses while also improving the comparative value of the data as a whole. Using this tool will not only help yourself, but the whole climbing community.
This is a data driven self-assessment analytic tool. This data-oriented approach will hopefully allow climbers to more accurately understand themselves, set plans, avoid injury, and reach their goals. While Test4Climbing is not a training program in itself, it might significantly help climbers find their place inside planned training and track their progress as assessments are logged through time.
Description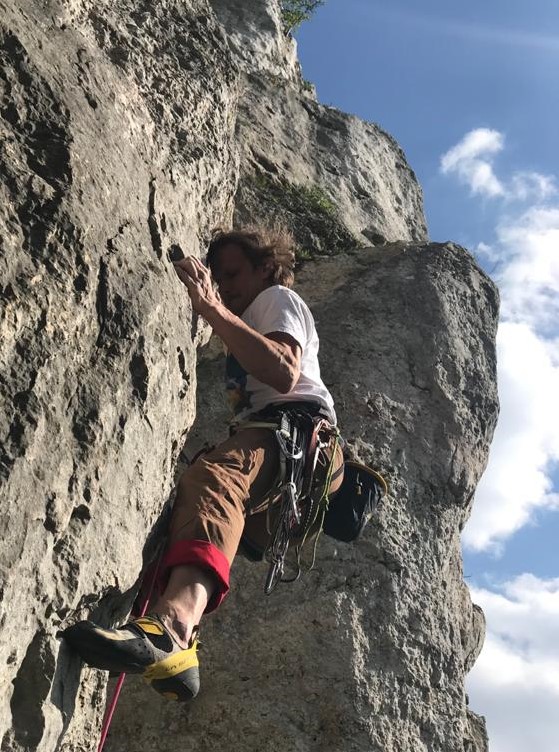 Hi, I'm Lukasz Strzalkowski and I climb since 2017. Despite that not being the longest time, I simply want to progress and send harder routes - of course! I created this project with that goal in mind, to find out the correlation of my measurable physical abilities to my climbing grade.
I wonder if my current abilities should theoretically allow me to climb harder routes than I currently am. If my results show that my current fitness levels fall somewhere below the average for my grade in some categories, I'll know what physical aspects to target. However, if it turns out that I am stronger than average, I'll know I need to improve my technique.
If our goal is to discover and train our weaknesses, we run into an interesting problem when our major downfall is technique. Measuring, or even defining the strengths and weaknesses of climbing technique is extremely difficult because of the large variety of skills involved such as: mindful climbing, movement patterns, precision, and many more, each of them varying in relevance depending on rock type and conditions. However, the importance of technique cannot be understated. That's why I have spoken with many great climbing researchers, coaches and sport psychologists to meaningfully implement mental metrics in this project. Some may find these features more useful than others, and the data may be less reliable, but the experts emphasized the massive value this may have to climbers. See for yourself!
The Supreme Master Assessment
The Supreme Master Assessment is the essence of Test4Climbing. It is a series of tests that the climber undergoes and records the results of. Each assessment also includes the climber's biometrics and current rock climbing performance and an extensive personal analysis.
Every Supreme Master Assessment is compiled into the database, so the tests should meet several requirements to be of the highest quality:
Reliability - be carried out in similar conditions with the assistance of another person, so that the measurements are as reliable as possible
Popularity - a large amount of data will allow analysis of the athlete's situation compared to other climbers
Availability - free for all
Affordability - easy to do at home and without specialized equipment
Accessibility - for all climbing levels
This approach should allow us to most accurately draw conclusions about our individual climbing performance with overview in front of the larger climbing community. As mentioned, the tool's usefulness ultimately relies on a large number of people participating (you might call it "crowdresearching"), so please share this site with your friends and climbing communities.
If you're ready, please proceed to the Before You Begin section and check out the User Guide for more detailed information about the testing process. After that, you'll be ready to make your Supreme Master Assessment and possibly discover more about your climbing than you've ever known before.
Contribute
If you would like to help improve this tool or website, add new features, create a new section, improve the analytics, or provide anything else that will make it better, please Contact us! :) We are open to new ideas and suggestions. You can also join our discussion Test4Climbing group
Donate
If you like this idea, please donate as that helps this webservice stay alive, make improvements and, I hope, proceed with further development.
You can donate with PayPal or Bitcoin.
PayPal: